Four Factors that Change How Your Senior Eats
Eating is a crucial activity for your aging adult because that's how she takes in the majority of her nutrients. If she's malnourished or not eating the way that she should be, some of these factors could be at play.
Her Metabolism Slows Down.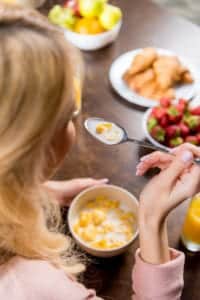 As your elderly family member ages, her metabolism changes quite a bit. This is something that most people notice in the middle stages of life. Your senior might have slowed down her activity level, too, which further slows down her metabolism. When she's not burning a lot of calories, she doesn't take in nearly as many calories as she used to take in. This is part of why highly nutritious food choices are a much better choice.

Her Appetite Goes through Some Changes.

Appetite and metabolism are closely related to each other and when your elderly family member's metabolism slows down, she's likely to experience a slowdown with her appetite, too. Also, if her activity level is low, her body's demand for calories is also likely to be low. Different medications that your senior takes can also have an impact on how often and how much she's willing to eat.

Her Digestive System Works a Little Differently.

Due to age, health issues, and medications, your elderly family member may find that her digestive system works differently than it used to. She may find that she has more issues with heartburn or that she needs to eat by a certain time of day. Smaller meals that she eats more frequently may help her to digest her food more easily.

Emotional Aspects Also Come into Play.

If your aging family member is experiencing depression or isolation, she may feel less interested in eating. When she's eating alone, she is more likely to find cooking to be difficult and time-consuming for her. Having someone else to make those food decisions for her and to prepare the food can make a big difference in whether she's willing to eat or not. Home care providers can also offer her companionship while she eats, which can alleviate some of the loneliness.

When you understand what it is that is affecting how your senior eats and what nutrition she's able to get, you can put tools in place that help. Home care providers can help you and your elderly family member to work around the different challenges that she's facing and work out the best ways to help her to eat well.
If you or an aging loved one are considering home care in Spokane, WA, please contact the friendly staff at Love in Home Senior Care, today. Call (509) 474-0663


Andy has over 20+ years experience in the medical community and has a true compassion for seniors. With a degree in Health Care Administration, he developed a background in a variety of health care services that only comes from first hand experience. While working as a manager of a large clinic and as an account executive for medical suppliers. Andy has built valuable relationships with the medical community.

His role in Love In Home Senior Care is to educate people on what care choice is the best fit for the senior and their family while attempting to make this decision as stress-free as possible for everyone involved.

This decision making process should be smooth and stress free for everyone, including all family members and their loved ones. Having access to people with experience (like the team at Love In Home Senior Care) to assist you along the way can help this process. With an extensive background in health care, Andy has the experience needed to guide and direct your loved one to the choice that is the best fit.
Latest posts by Andy Niska (see all)