Love In Home Senior Care provides affordable elder care companions who are screened based on their experience, sensitivity and compassionate nature.
Only Caregivers exhibiting the highest level of attentiveness, compassion, moral character, professionalism and a fun attitude become members of the Love In Home Senior Care Team.
We diligently seek out dependable, caring, trustworthy, patient, and friendly people to work with our clients, including those with past experience in home care and/or experience with volunteer and religious affiliated organizations.
Screened and Checked
Additionally, all Love In Home Senior Care Caregivers are screened and must pass the Following Background Checks before they are permitted to work in the field:
Washington State Department of Social & Health Services Background Check and fingerprinting
All Professional and Personal References are Checked
Comprehensive FBI Background Check
Clean Driving Record and Driver's License
In addition to these thorough checks and for your peace of mind, Love In Home Senior Care is bonded and insured.
Continuous Education
In order to further enhance their abilities, we continuously provide our caregivers with current, updated materials and new innovations related to working with and caring for seniors.  All employees are required to complete a minimum of 12 hours of continuing education annually.  Paid for by Love In Home Senior Care.
We are Committed to Communication
We are in frequent contact with the client and client's family to assure customer satisfaction and that expectations for in home care are being met. As we continue to build an elite team of Personal Assistants unlike any other company in the business, we encourage your comments and suggestions as we work to achieve this goal.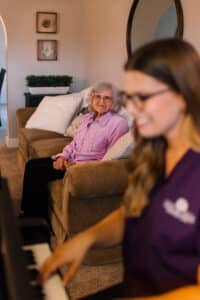 Two Types of Specialized Care
For those clients who need help with Activities of Daily Living (ADL) and hands-on personal care services, Love In Home Senior Care of Spokane offers two types of specialized individual care:
Certified Nursing Assistants (CNAs/NACs)
Home Care Aides (HCAs)
These two types of care provide a quality in-home care alternative to an assisted living facility, nursing home or cost-prohibitive private nurses.
Daily Task Assistance
Our team of caregivers offers companionship to you or your loved ones plus handle daily tasks such as:
Personal Care
Cooking
Cleaning
General Household Chores
Running Errands
Companionship
Safety of Your Loved One
Transportation
For more Information about how Love In Home Senior Care can help you and your loved one…
Let's Get Started!
Get Immediate Help on Info & Pricing