What is In Home Care?
In-home care is an alternative to retirement communities and assisted living facilities. Home care allows seniors the ability to maintain independence while providing the level of care needed for them to be safe and comfortable in their home. Many older adults express a strong preference to age in the place of their choosing, typically their home. In home care is an excellent choice to help support the health, social and emotional needs of elders who want to "age in place" at home. Although in home care is typically a care choice for older individuals wanting to age in place, it is also a perfect option for individuals of any age who are recovering from surgery, injury or illness. At Love in Home Senior Care we work hard to provide outstanding care to meet these needs at an affordable price.
For immediate assistance and answers to your questions
Call Today (509) 474-0663
What Makes Love In Home Senior Care Different From Other Spokane In Home Care Services?
Love in Home Senior Care has one goal, providing the very best in-home care in Spokane at a reasonable price. All our staff, including the owners, care managers, clerical staff and care givers believe in our mission goals, and values. Love in Home Senior Care isn't just our name it's what we do and what has built our business. Our company was founded by Andy Niska in 2013 after observing the challenges of navigating the elder care options available for his grandmother. With this experience in mind Andy set out to build a better option for seniors and other individuals who wanted to preserve their independent lifestyle and be afforded the safety and security of all levels of round the clock care. Today Love in Home Senior Care is a leading in home care company in Spokane and provides all levels of in-home care including:
Respite care

24-hour in-home care

Assisted living alternative

Home care assistance

Alzheimer's and Dementia Care

Delegated nursing care

In Home care to supplement hospice care services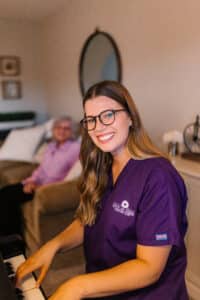 Respite Care
Respite Care is an excellent option when the job of taking care of an aging or ill loved one is taken on by family members. This scenario can put a strain on the family, especially with young children and careers. Unfortunately, this situation often eventually leads to burn out of the family members providing the care for their loved one. The emotional and physical toll of providing round the clock care for an aging family member is very real. Therefore, Love in Home Senior Care can provide respite care for your loved one when you need it. Respite care not only helps family members to be able to enjoy quality time with their loved ones, it also provides the resource of a having a trained, experienced, caring professional to deliver the highest quality services for you, or your loved ones.
24-Hour In-Home Care
When there is a need for 24-hour in-home care, we are here to help. Our experienced caring staff have the skills and experience to facilitate all levels of care around the clock. Safety and comfort are always priorities and that's why Love in Home Senior Care provides sleep-over services including mobility assistance, medication schedule assistance, and emotional support.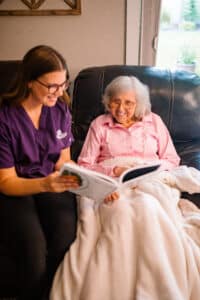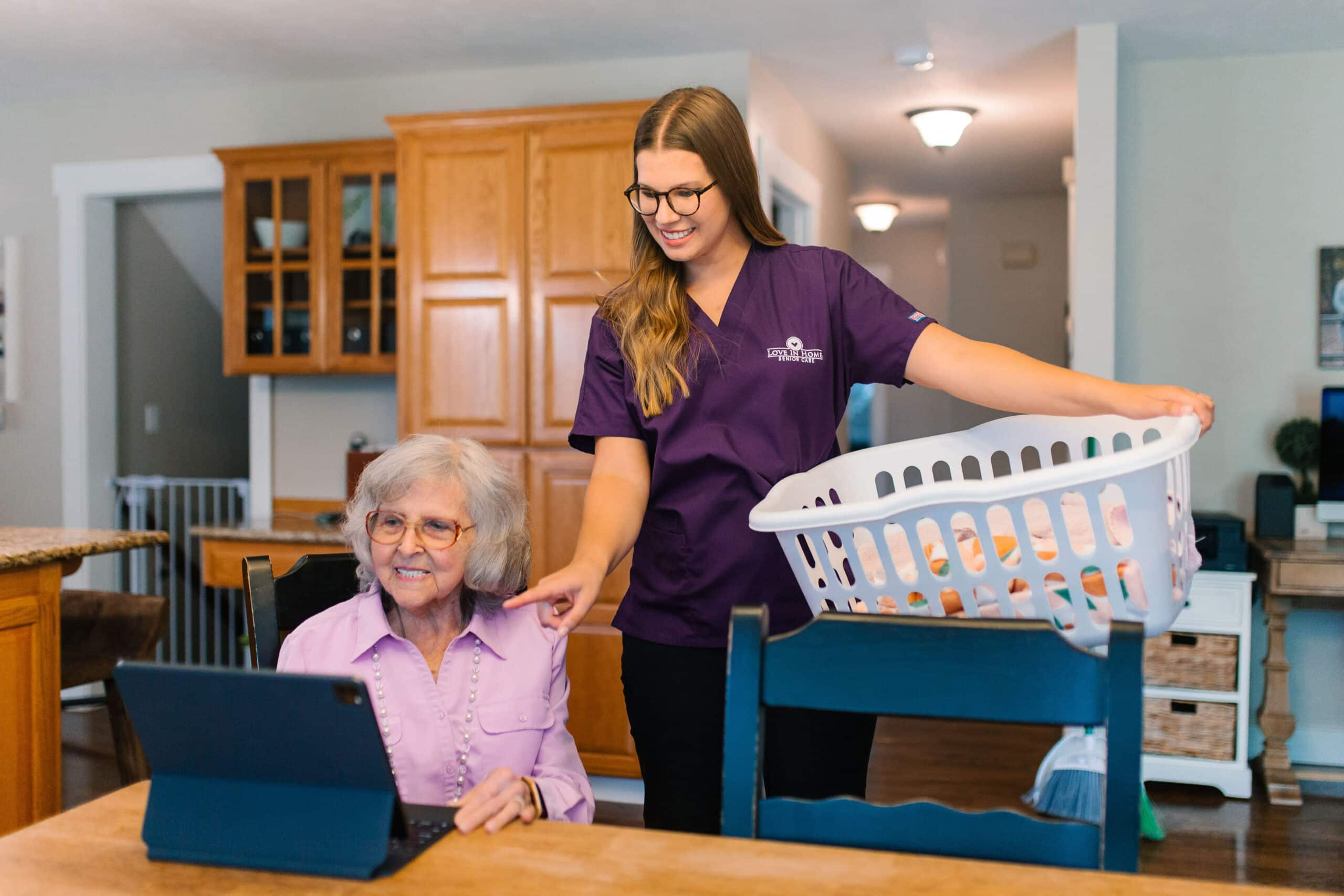 Home Care Assistance
Our home care assistance service provides a professionally trained and licensed caregiver to help with daily activities such as laundry, dishes, preparing meals, personal care and companionship.
Assisted Living Facility Alternative
Love In Home Senior Care provides an alternative solution to an assisted living facility. Many individuals looking at care options see assisted living facilities as the only solution. For many older individuals the thought of leaving their home can be distressing and detrimental to their overall well-being. Fortunately, Love In Home Senior Care provides an alternative to assisted living facilities that allows older individuals to age at home. All levels of care are available from just needing help with a few day to day tasks all the way to end of life care.
Alzheimer's Care and Dementia Care
A diagnosis of Alzheimer's or other forms of Dementia can present special challenges for care giving.  Love In Home Senior Care has caregivers who are experienced at handling the special needs of these diagnoses. Caregivers help with medication schedules, medical care, mobility assistance and providing comfort and companionship when depression occurs with Alzheimer's or other dementia diagnosis.  Additionally, individuals with Alzheimer's or Dementia often wander away and find themselves in unfamiliar places. Stay over night services can provide 24-hour stay awake care that will give you the peace of mind to know that your loved one's safety and security are being taken care of by a qualified caregiver.
Home Health Care Delegated Nursing Services
Delegated nursing services provide an affordable alternative to full time home health care service. As a family member, you'll experience peace of mind knowing a skilled nurse delegated caregiver supervised by a registered nurse is present when you are not there. Med administration is a delegable duty for our home care aides.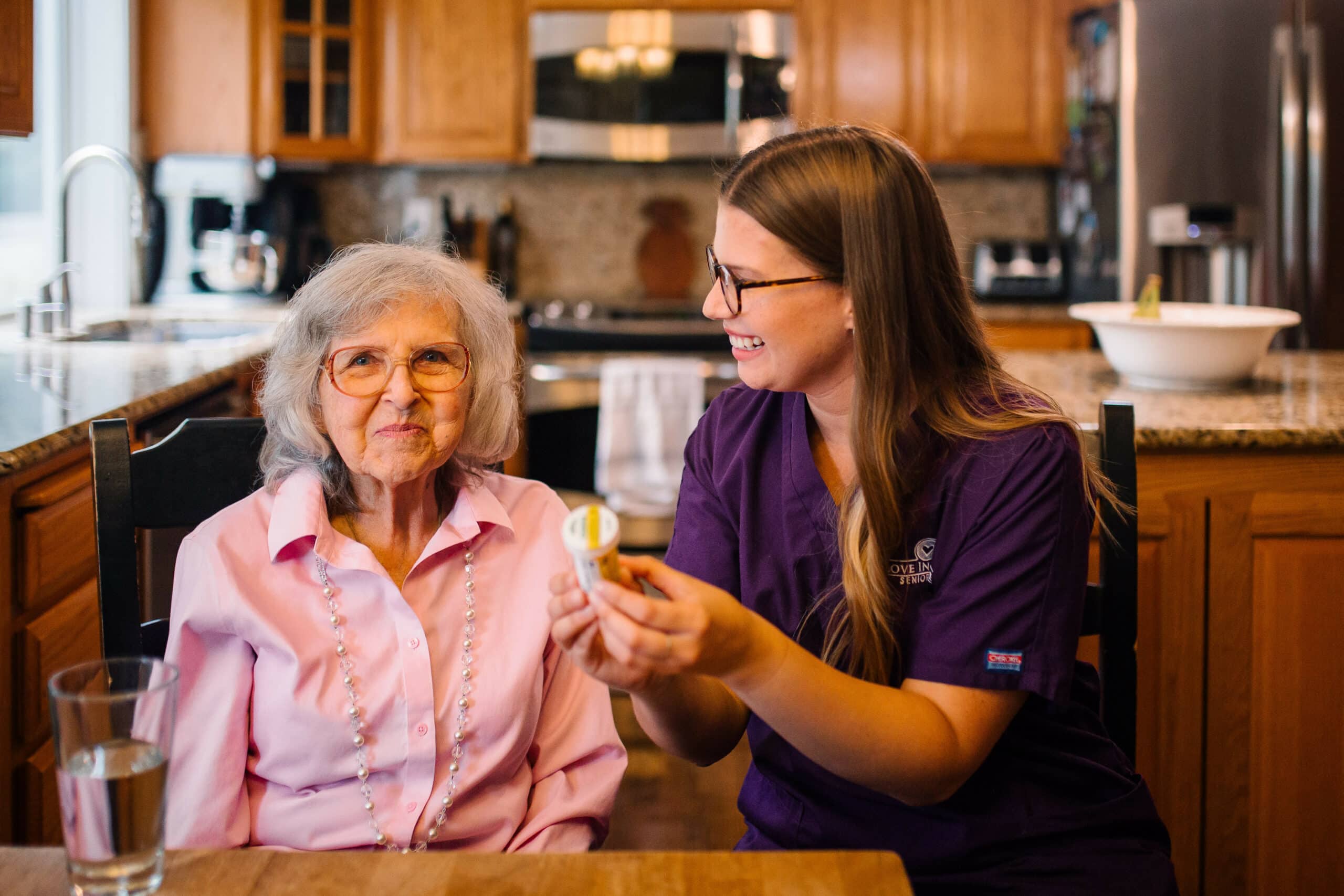 Supplemental In-Home Care for Hospice Care Services
If your loved one had received a limited life expectancy or terminal illness diagnosis Love In Home Senior Care can help with in home care services to supplement hospice care services in Spokane, Washington. We work closely with local hospice organizations in order to provide the very highest quality end of life care. Our caregivers have received extensive training to ensure your loved one is comfortable during their final days. We work closely with hospice care services providers to help ease the care giving weight that family members can feel during their loved one's final days. The same core values that are the basis for our other home care services are the guiding force for us to create a safe and comfortable home environment that facilitates your loved one living their final days with dignity.