Five Tools that Can Help Your Senior Deal with Vision Loss
Vision loss is frustrating for your aging family member, but even worse is the fact that it can affect how well she can do the things that she needs to do and that she loves to do. Using some of these tools can help her to get back to doing more.
Lighting Is the First Step.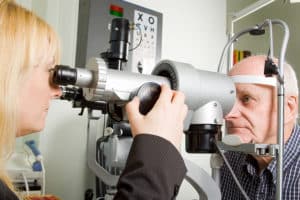 Even with only small amounts of vision loss, lighting can be the very first solution that you put into place. Improving your senior's lighting allows her eyes to work a little less hard to try to distinguish some details. Even if the lighting seems bright enough to you, your senior probably needs a little bit brighter lighting in order to see just a little bit better.
Magnifiers Make a Big Difference.
Magnifiers of all sorts can be a huge help for your elderly family member. They're available in a range of sizes and strengths, both with additional lighting and without. Don't overlook the helpfulness of digital magnifiers, too. Your senior's smartphone or tablet can work as a lighted magnifier of just about anything, which allows her a certain freedom even away from home.
Large Print Editions Help.
If your elderly family member enjoys reading, she may feel particularly cheated by vision loss. Libraries in particular often have a wide range of large print editions of both books and magazines. Newspapers can sometimes also be ordered in large print editions, which can allow your senior to continue reading.
Audio Versions Reduce Strain.
For seniors who are more open to other forms of storytelling, audio versions of books and magazines can be a great option. Depending on the genres your senior enjoys reading, audio versions may be more plentiful, too. Audio versions reduce the risk of eye strain, which can be a big problem for some eye ailments.
Eye Doctor Visits Still Matter.
Your senior might start to believe that because she's losing her vision, it doesn't matter if she goes to her eye doctor or not. But that's far from true. Her eye doctor can still do quite a bit to help her maintain the vision that she has and watch for signs of other eye issues.
Different tools are likely to help your senior in different stages of her battle with vision loss. Mixing and matching them can help her to get as much help as possible when she needs it the most. For instance, you might be one of her most important tools because of all that you can do for her. Likewise, when you can't be there, elderly care providers can be someone that she can lean on.
If you or an aging loved one are considering elderly care in Liberty Lake, WA, please contact the friendly staff at Love in Home Senior Care, today. Call (509) 474-0663
Andy has over 20+ years experience in the medical community and has a true compassion for seniors. With a degree in Health Care Administration, he developed a background in a variety of health care services that only comes from first hand experience. While working as a manager of a large clinic and as an account executive for medical suppliers. Andy has built valuable relationships with the medical community.

His role in Love In Home Senior Care is to educate people on what care choice is the best fit for the senior and their family while attempting to make this decision as stress-free as possible for everyone involved.

This decision making process should be smooth and stress free for everyone, including all family members and their loved ones. Having access to people with experience (like the team at Love In Home Senior Care) to assist you along the way can help this process. With an extensive background in health care, Andy has the experience needed to guide and direct your loved one to the choice that is the best fit.
Latest posts by Andy Niska (see all)