Five Tips for Staying Calmer as a Caregiver
Calm can be a big goal for caregivers because chaos is such a big part of the caregiving process. The less often you experience calm, the more strongly you probably want to achieve it.
Use Calm as a Mantra.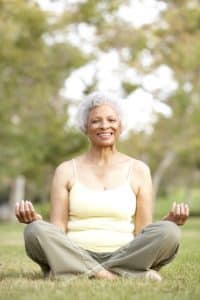 When you focus on getting to calm, you can get there more quickly. As you start to feel your calm slipping, repeat to yourself, "I am calm." Having a mantra to remind you where you want to be can help you focus on that again and let go of whatever is keeping you from calm.
Ask Yourself How You're Feeling.
Few caregivers remember to ask themselves what they need or how they're feeling, even as they ask their family members the same question multiple times per day. Treat yourself to the same courtesy. What do you need right now and how are you feeling? Do your best to answer those questions honestly and then act accordingly.
Stop Asking Others and Just State Facts.
One big mistake you might be making is asking other people things instead of stating facts. For instance, your senior doesn't want to eat even though it's been hours since she last ate. Instead of asking her if she wants to eat, offer her facts or a choice. "I can make you some scrambled eggs or a sandwich." What this does is remove the option for a refusal.
Take Some Extra Breaks.
Never underestimate what even a couple of hours away can do for you. You're probably not taking nearly as much time away as you need to be taking and that alone can damage your calm. Hiring senior care providers allows you to take the time away that you need without worrying what's happening in your absence.
You're Going to Make Mistakes.
The reality of life is that there are going to be times that, no matter how badly you're seeking calm, calm is not even close to how you're feeling. That's not a failing on your part at all. Life happens and mistakes happen. Accept that fact and do what you need to do in order to move on from here.
So much about caregiving can feel as if it's designed to keep you far away from that blissful feeling known as calm. But that doesn't have to be the case. Practice some of these steps and don't worry about whether you're doing anything perfectly or not. Sooner than you think you'll realize that calm is a much more frequent companion than it once was.
If you or an aging loved one are considering senior care in Spokane Valley, WA, please contact the friendly staff at Love in Home Senior Care, today. Call (509) 474-0663
Andy has over 20+ years experience in the medical community and has a true compassion for seniors. With a degree in Health Care Administration, he developed a background in a variety of health care services that only comes from first hand experience. While working as a manager of a large clinic and as an account executive for medical suppliers. Andy has built valuable relationships with the medical community.

His role in Love In Home Senior Care is to educate people on what care choice is the best fit for the senior and their family while attempting to make this decision as stress-free as possible for everyone involved.

This decision making process should be smooth and stress free for everyone, including all family members and their loved ones. Having access to people with experience (like the team at Love In Home Senior Care) to assist you along the way can help this process. With an extensive background in health care, Andy has the experience needed to guide and direct your loved one to the choice that is the best fit.
Latest posts by Andy Niska (see all)