Benefits of Home Care: Mobility Support Out of the Home
Getting out of the home is a fantastic way to change up your senior's routine, stimulate their mind, and help them to get more activity that can keep them healthier as they age in place. If your elderly loved one is struggling with mobility challenges, however, they may hesitate to leave the home often, or may be at higher risk of experiencing dangers when they leave the home. This is one area where home care can be exceptionally beneficial. Mobility support outside of the home can encourage your loved one to stay more active, engage in the world around them, and stay safer as they age in place.
Some of the ways mobility support from home care can help your aging parent as they age in place include: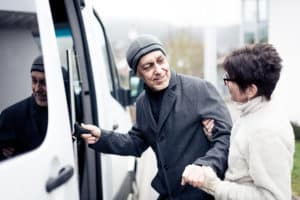 Reducing fear and anxiety that might come with leaving the home, especially for a senior who has already experienced a fall or other accident. Often it is this fear that keeps an elderly adult from engaging in activity outside the home, which can be detrimental for their physical, mental, and emotional health throughout their later years.
Helping your parent to take on more of their own activities, such as running errands like grocery shopping, even when the circumstances aren't ideal, such as in winter weather. This promotes a greater sense of independence and also opens up your schedule more.
Allowing your parent to engage more in the community, which can be instrumental in supporting good mental and emotional health, and a sense of relevance and importance. This can include encouraging your parent to participate in volunteer opportunities, seek out continued learning, and even be more social through organizations, clubs, and gatherings.
No matter how well you plan your care or how dedicated you are to your family caregiver role, you are likely to experience times when you can't be with your parent as you usually are. You may get sick or need to care for a sick child or partner, you may need to put more time into work or other responsibilities, you may need to attend an activity or event with your child, or you simply may need a break. Whatever the reason, if you need to take a step back from your care responsibilities, respite home care may be the ideal solution. With this type of care, an in-home senior care services provider steps in on a temporary or urgent basis to provide your senior the care they need when you are unable to. This means they stay safe and healthy while you were able to focus as much as you need to on the other aspects of your life.
If you or an aging loved one are considering home care in Spokane Valley, WA, please contact the friendly staff at Love in Home Senior Care, today. Call (509) 474-0663
Andy has over 20+ years experience in the medical community and has a true compassion for seniors. With a degree in Health Care Administration, he developed a background in a variety of health care services that only comes from first hand experience. While working as a manager of a large clinic and as an account executive for medical suppliers. Andy has built valuable relationships with the medical community.

His role in Love In Home Senior Care is to educate people on what care choice is the best fit for the senior and their family while attempting to make this decision as stress-free as possible for everyone involved.

This decision making process should be smooth and stress free for everyone, including all family members and their loved ones. Having access to people with experience (like the team at Love In Home Senior Care) to assist you along the way can help this process. With an extensive background in health care, Andy has the experience needed to guide and direct your loved one to the choice that is the best fit.
Latest posts by Andy Niska (see all)