Wondering How to Have Fun in September? It's OK to "Waffle" – September 1-7 is National Waffle Week!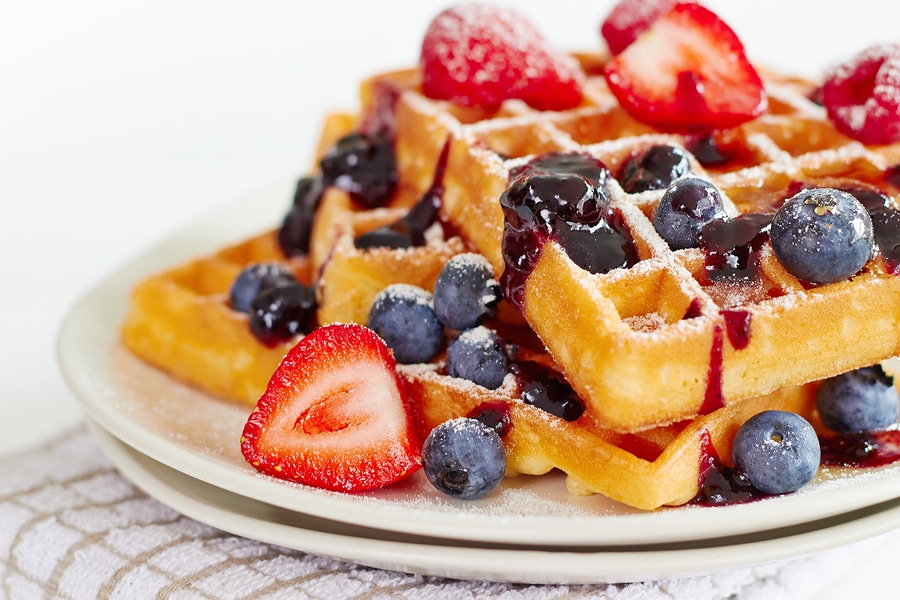 If you missed National Waffle Day on August 24, don't fret – National Waffle Week is here! You and your senior loved one have seven days to celebrate, prepare, and enjoy any variety of your favorite breakfast (or anytime) tasty treats!
Here is a list of waffle options to consider for each day of your Waffle Week! However, the first thing you need to do (if you don't already have one) is to buy yourself your own waffle iron. They are available in a variety of shapes and sizes; just choose your favorite style that suits you and start waffling!
September 1 – Start With the Basics!
Start your week of waffling with the traditional waffle style – good 'ole butter and maple syrup! This is a reliable standard that your senior loved one likely has enjoyed for years. Be sure this style is suitable for his or her dietary restrictions. If not, there are endless options of diet-appropriate waffle styles to choose from!
September 2 – A Healthy, Tasty Treat!
Now that you've broken-in your new waffle iron for the week, it's time to really start waffling! On the second waffle day, try garnishing a Belgian-style waffle with your senior loved one's favorite healthy fruit. Strawberries? Bananas? Blueberries? Why not mix all three? Add a spoonful of lite whipped cream on top and your senior will enjoy a healthy, tasty breakfast and start the day with a smile!
September 3 – Spice Things Up a Bit!
After a delicious morning of fruits atop a delicious toasted waffle, it's time to spice things up a bit! Today, try some jalapeno-enhanced waffles by mixing into the batter some finely-grated mild jalapenos to give yourself that tasty kick start you really need! Again, be sure this is suitable for your senior loved one's dietary limitations. If not, keep some batter separate before you add your jalapenos and incorporate your senior's favorite spice or garnishment! You really can't go wrong!
September 4 – Why Are You Waffling?—Go For It!
Okay. There's no point in waiting any longer. You are already half way through Waffle Week and although you are already the most favored senior caregiver on the block, you have yet to break out your senior loved one's favorite dessert and just go for it! Is it ice cream? Peanut butter? Chocolate? Whatever it is, let your senior loved one decide and (again, as long as their choice is not prohibited by the diet recommended by their doctor) let them enjoy!
When incorporating a richer dessert with which to garnish your senior loved one's waffles, it may be prudent to prepare this treat later in the day—for lunch or early dinner, rather than breakfast. After all, breakfast, in fact, is the most important meal of the day! Waffles with rich dessert toppings may be best left for the middle of the day, perhaps to reward yourself or your senior loved one for accomplishing a goal set for the day. In any case, enjoy! You've earned it!
September 5 – Back to a Healthy Reality!
Back to reality! Today is a good day to return to a more health-conscious menu. Perhaps supplement a tasty waffle with some chicken or morning vegetable. You can even create a healthy breakfast sandwich with two toasted waffles. Your choices truly are endless!
September 6 – Don't Be Afraid to Try New Things!
As much as you might like it to be September 4 (dessert day) again, today is the day for trying new things. Take some time with your senior loved one to go online and explore the countless number of waffle recipes that are available for you to try. Choose one that you feel comfortable preparing as a senior caregiver, but don't be afraid to experiment! You may just find a new favorite for you and your senior loved one!
September 7 – Stop Rattling Those Pots and Waffle Makers! – Go Out to Eat!
You made it through a fun and exciting week of waffle experiments, but now it is time to let someone else do the work! Today, take your senior out to a local restaurant for some local waffle cuisine! See how they compare to your own! No doubt, with some simple investigation, you will find more than a few local restaurant chains that are offering specials on waffles all week—perhaps even offering free waffles in honor of possibly the tastiest national holiday on the calendar!
The first week of September—Waffle Week—is difficult to overlook. But remember what is really important about this celebration week for you and your senior loved one: you are enjoying your time together and fulfilling your role as senior caregiver. You are appreciated in that role. There's no waffling about that!
If you or an aging loved one are considering Senior Care in Spokane Valley , WA, please contact the friendly staff at Love at Home Senior Care, today. Call (509)474-0663.
Latest posts by Andy Niska
(see all)